The Best Trading Pairs in Q2 2021
Coinread's data scientists hand-picked the top six cryptocurrencies based on market cap that posted the largest gains during Q2 2021. Find out which coins inside!
As we move into the third quarter of the year, Coinread's data scientists have taken some time out to assess the performance of some of the leading cryptocurrencies based on market capitalisation. The remit? To try and find the top performing crypto trading pairs in Q2 2021. Our data scientists utilised real-time market data from Binance, which is one of the world's largest and most liquid cryptocurrency exchanges. These figures have helped inform the movement in price of several cryptocurrencies against USDT, which is the Tether stablecoin pegged to the value of the US dollar. The trading pairs involving the six top performing cryptocurrencies of Q2 2021 each recorded the highest liquidity and traded volumes with USDT on Binance.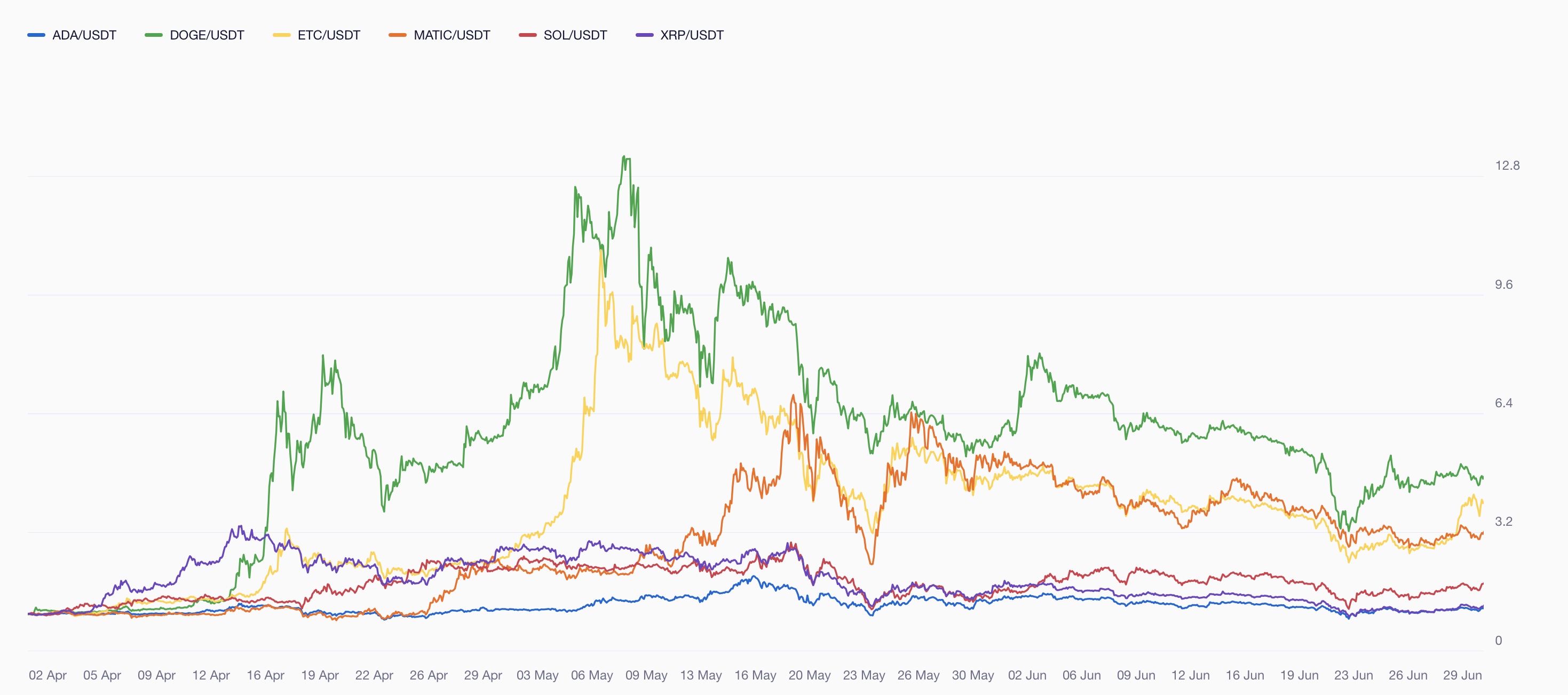 Common trends in Q2 2021
Across all six of the cryptocurrencies ranked, each crypto asset experienced a significantly drop in value on 19th May 2021, between 12:40pm and 13:05pm. In that 25-minute window, some of these assets lost over 40% of their market value from the start of that trading day. This day has been labelled "19th May Mayhem" in some quarters, because it proved to be the second worst trading day ever for both Bitcoin and Ethereum. The inherent value and market sentiment towards Bitcoin and Ethereum influences the vast majority of the crypto marketplace. What caused the 19th May Mayhem? One potential cause was the issue of leveraged cryptocurrency among retail traders. According to crypto trader and leading economist Alex Krüger, leveraged cryptocurrency investments had reached unsustainable levels since December 2020, with contract for difference (CFD) brokers allowing retail traders to amplify their positions on Bitcoin several times over. This, combined with the raft of institutional traders spot buying BTC and ETH meant that a day like 19th May Mayhem was almost certain to happen at some point. Fortunately, from the low point of 19th May Mayhem, the top six performing cryptos saw their values recover somewhat but still closed at an average loss for the day between 26%-37%. H2: Top performing crypto trading pairs in Q2 2021 The top six crypto trading pairs in Q2 2021 are ranked below with the top crypto asset recording the highest quarterly growth in the crypto marketplace.
Dogecoin (DOGE)
Dogecoin was far and away the top performing crypto pair with USDT in Q2 2021. The price of DOGE began Q2 2021 at a price of $0.0539 and ended it at $0.25 per DOGE. That doesn't tell the whole story of the last quarter for Dogecoin, given that its quarterly high peaked at an impressive $0.7362.
The start of Q2 2021 saw manic buying on Dogecoin, which lasted until 6th May. Dogecoin experienced a 13-fold rise in its value during this timeframe. Trading volumes on DOGE soared 1,250% to a shade under $1 billion daily. Dogecoin, which was first founded as a tongue-in-cheek altcoin linked to the image of a Shiba Inu dog, has become a serious crypto asset in 2021.
The main reason behind its meteoric rise is the support of futuristic entrepreneur Elon Musk, who regularly refers to himself as the "Dogefather" having fallen for the asset's charms. Musk's public support for Dogecoin has created a sense of mass hysteria surrounding DOGE, with the fear of missing out (FOMO) rife among retail crypto traders.
In addition, a string of established crypto trading brokerages have announced support for DOGE on their exchanges in recent weeks, with Gemini, eToro and Webull to name but a few.
Ethereum Classic (ETC)
Ethereum Classic was the second-best performing cryptocurrency pair against USDT in the last quarter. Formed during a split from Ethereum's original blockchain, Ethereum Classic's founders were disillusioned about the direction of Ethereum, insisting that the original blockchain should still be considered the real Ethereum.
Supporters of Ethereum Classic abide by the 'Code is Law' model. The very nature of blockchain is that data – and subsequent transactions – should be immutable and unaltered, providing total transparency. Ethereum Classic's development is overseen by blockchain infrastructure experts IOHK. Recent updates have worked hard to improve the long-term stability and secure of the Ethereum Classic blockchain.
Alongside Dogecoin, Ethereum Classic was one of only two cryptocurrencies recording triple-digit gains during Q2 2021. ETC posted a quarterly return of 302.44%, with its starting price of $14.30 in April closing at $57.55 at the end of June.
That only tells half of the story, however. The price of Ethereum Classic surged to highs of $166.01 on May 6, 2021. ETC's gatekeepers published a long-term roadmap for the cryptocurrency, as well as a budget for the remainder of 2021 and multiple software releases. All of which breathed new confidence and life into the ETC project. Talk of the Magneto upgrade, which will slash gas fees and improve user security, also buoyed the ETC price.
Polygon (MATIC)
The growth of Polygon (MATIC) follows closely behind Ethereum Classic, with investors in MATIC experiencing 222.19% returns on investment during Q2 2021. Since its launch in 2019, the second quarter of each year has been a profitable one for MATIC investors, but this time there is growing confidence that the bullish market will linger.
The crypto bulls have long been seeking out the bargains to invest in and Polygon (MATIC) is certainly one of those. While Ethereum Classic has been working to bring the original Ethereum blockchain back to life, Polygon has been working in tandem with the forked Ethereum network to provide an ecosystem that acts as a bolt-on framework to enhance Ethereum's blockchain capabilities.
Its 'sidechain' technology is designed to improve the scalability of Ethereum's Proof-of-Stake (PoS) blockchain. While its Plasma framework makes it possible for Ethereum developers to build new child blockchains compatible with the forked Ethereum network.
The price of MATIC soared from a starting price of $0.362 to a closing price of $1.168 in Q2 2021, peaking at highs of $2.67 on May 18, 2021. It continues to demonstrate its utility value in a broadly bearish crypto market through the last quarter.
Solana (SOL)
Solana was dubbed a 'unicorn' crypto asset in certain sections earlier in Q2 2021, with its ability to continue to accumulate growth in the face of a bearish crypto market. Investors in SOL through the previous quarter would have generated an 82.927% ROI.
The price of SOL rose from $19.412 to $35.51 by the close of the second quarter, having retracted from quarterly highs of $58.159 on May 18, 2021. There were already plenty of signs that Solana was beginning to catch fire in the crypto market. In December 2020, it comfortably doubled in value from $1 to $2 and over the course of the last 12 months has appreciated in value by more than 4,200%.
Although Solana was eventually affected by the downgrade to major crypto assets like Ethereum from mid-May, it still ended Q2 2021 in good shape. Solana is pricking the ears of crypto enthusiasts because of its potential as a long-term alternative to Ethereum. It's cheaper, given that one million SOL transactions can be processed for the same cost of just three ETH transactions. It's more scalable too, with bandwidth said to be able to handle 50,000 SOL transactions per second. That compares very favourably with Ethereum's network average of 13.88 transactions per second.
Ripple (XRP)
Although Ripple's dispute with the US Securities and Exchange Commission (SEC) remains ongoing, this does not appear to be deterring XRP traders and users. Average daily trading volumes doubled to $4.49 billion daily during Q2 2021, up from $2.26 billion in the previous quarter.
In addition, the value of XRP was up 23.25% during Q2 2021, rising to $0.706 from $0.573 at the start of April 2021. XRP had peaked at a quarterly high of $1.964 on April 14, 2021, with XRP's volatility influenced by multiple factors, notably regulatory scrutiny, high-profile tweets from crypto entrepreneur Elon Musk and the threat of ransomware attacks.
In fact, XRP proved to be an even more volatile cryptocurrency than the likes of Bitcoin and Ethereum in the last quarter. Its standard deviation of daily returns through Q2 2021 equated to 11.5%, which was significantly higher than Ethereum (7.3%) and Bitcoin (5.0%).
In total, Ripple sold $157.92 million worth of XRP in Q2 2021, up from $150.34 million in the previous quarter. Ripple CEO Brad Garlinghouse has also intimated the fintech giant is looking to become publicly listed following the settlement of its SEC lawsuit.
Cardano (ADA)
Cardano was one of the top performers in Q1 2021, so it's no surprise to see that ADA closed Q2 2021 with rather more modest quarterly gains. ADA returned 16.10% for crypto investors in the last quarter, with Cardano's value closing at $1.385 having started the quarter at $1.193.
Cardano had peaked for the quarter at $2.461 on May 16, 2021 before paring many of its gains before the close of June. It's important to note the consistently positive market momentum surrounding ADA. The gains of Q2 2021 were Cardano's fifth consecutive positive quarter.
The long-term goal for Cardano remains the same: to improve the speed and scalability of smart contracts. It is still going head-to-head with Ethereum for smart contract supremacy, with Ethereum holding the edge at present due to the sheer volume of smart contracts and decentralised applications (dApps) active on its network. The impending launch of Cardano's Alonzo smart contract testnet will be a stiff test of ADA's popularity as a smart contract competitor.