The best trading pairs in Q3 2021
Coinread's data scientists hand-picked the top 10 cryptocurrencies that posted the biggest quarterly gains in Q3 2021. Find out which coins performed the best.
As we move into the final quarter of the year, Coinread's data scientists have taken some time out to assess the performance of some of the emerging cryptocurrencies, investigating the altcoins experiencing the biggest gains during Q3 2021. Our data scientists utilise real-time market data from Binance, which remains the world's most popular and liquid cryptocurrency exchange. Binance has also launched its own Binance US platform, exclusively for cryptocurrency investors stateside. These figures have been used to inform the best performing cryptocurrencies against USDT, which is the Tether stablecoin pegged to the value of the US dollar. We'll review the price movements of ten of the top performing cryptocurrencies of Q3 2021, whilst comparing trends with the previous quarter.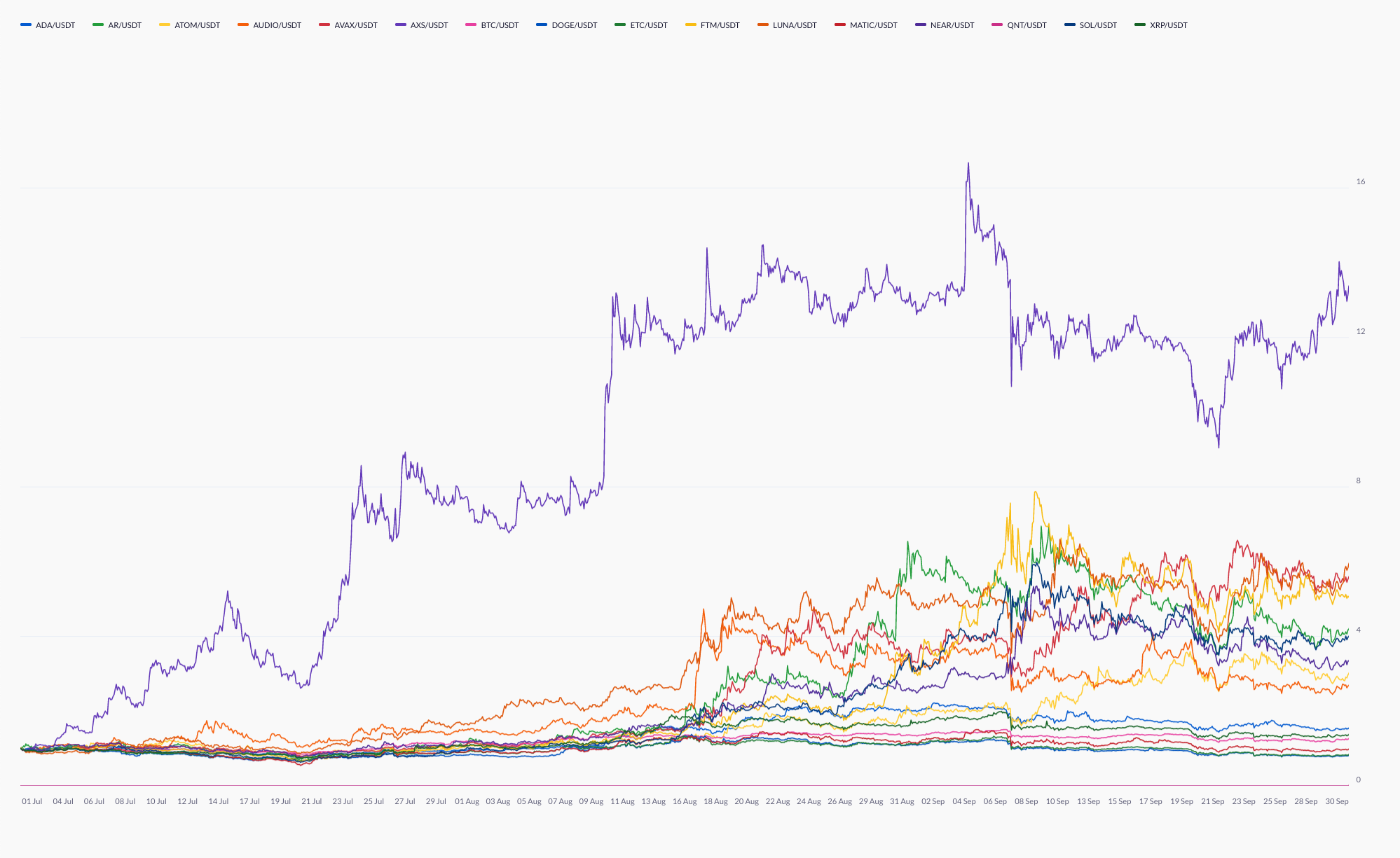 Quarterly comparisons with Q2 2021
If you are looking for altcoins that have driven consistent gains across Q2 and Q3 2021 respectively, there is only one cryptocurrency that's reached our list of top performing crypto trading pairs across both quarters – Solana. SOL returned profits of 199.60% during Q2 2021 and followed that up with impressive gains of a further 505.44% in Q3 2021. Solana has already been dubbed "the next Cardano" i.e. the next altcoin to make a meteoric rise up the cryptocurrency tables in terms of market capitalisation. It recently overtook the much talked about "meme stock" Dogecoin as the seventh most valuable cryptocurrency, with a market cap of $42.529 billion. Many of the cryptocurrencies that experienced outstanding gains in Q2 2021 experienced corrections in the following quarter, but still managed to post positive quarterly returns. For example, Dogecoin's value soared 1,264.89% in Q2 2021 but was up just 38.28% in the following quarter. Ethereum Classic (ETC) was up 1,060.91% in Q2 2021 but was up just 35.27% in the following quarter. Conversely, several cryptocurrencies that lost momentum in Q2 2021 have experienced impressive gains during the last three months. Bitcoin's value grew a mere 9.55% in Q2 2021 but soared by 51.21% in the following quarter, which is impressive growth for a cryptocurrency with the biggest market capitalisation worth over $968.830 billion. Meanwhile Cardano also saw improved gains on Q2 2021 in the following quarter, with returns of 106.29% in Q2 2021 and 124.49% in Q3 2021 respectively.
A notable volatility event in Q3 2021
It's also important to note a period of significant volatility during the last quarter, involving all the coins listed in the top ten best performing crypto pairs in Q3 2021. On 7th September 2021, there was a sizeable volatility event at 14:00 UTC, with all cryptocurrency values plunging to lows by 15:00 UTC. This occurred on the day that the South American nation of El Salvador confirmed Bitcoin as legal tender in the country. The plunge was due to the uncertainty surrounding all other crypto assets, but after the significant lows, some of the coins recovered the same day to the same price levels – and even higher still. For instance, the NEAR Protocol coin finished the day around 40% up. However, six of the top ten performing crypto assets closed the day with at least a 20% loss.
Top performing crypto trading pairs in Q3 2021
The top ten crypto trading pairs in Q3 2021 are ranked below, with the top crypto asset recording the highest quarterly growth in the crypto marketplace.
Axie Infinity (AXS) Axie Infinity has experienced a meteoric rise to cryptocurrency stardom in the last quarter. Its native AXS tokens have seen a price rally of 1,237.71% in Q3 2021, due largely to the fast-emerging craze of blockchain-based gaming. The value of AXS tokens rose from an opening price against the USDT of $5.5797 to a closing price of $74.64.
Axie Infinity 'airdropped' 800,000 AXS tokens to early adopters of its blockchain-based game concepts. In doing so, it also launched staking opportunities, enabling early adopters to reinvest their tokens back into the Axie Infinity project and earn staggering rates of interest at 161% APR. Holders of AXS tokens will also receive dividends from the community treasury of Axie Infinity, which could yield big payouts if its games continue to take off.
Players purchase, develop and battle 'Axie' monsters against other players' Axies to try and win in-game currency that can be exchanged for fiat currency payouts. Axies are distributed to players in the form of non-fungible tokens (NFTs), which makes them highly collectible to users both inside and outside of the game.
Terra (LUNA) Terra ranked as the best performing cryptocurrency against the USDT in Q3 2021. It's also just above Avalanche as the 13th most valuable cryptocurrency by market cap, with a total valuation of approximately $11.574 billion. It posted a quarterly return of 494.46% in the last three months, with an opening price of $6.532 rising to a closing price of $38.83.
The value of LUNA, the native asset of the Terra blockchain has soared in recent weeks due to the successful upgrade of its network, named Columbus 5. LUNA is the utility token used to underpin Terra's UST stablecoin when it is no longer valued to the equivalent of USD$1.
The network upgrade of Columbus 5 is beneficial for two reasons. Historically, the LUNA used to keep the UST pegged with the USD was burned and sent to the community pool. Since the upgrade, the LUNA is permanently burned, reducing the overall supply of LUNA tokens which could further increase demand and the value of individual tokens. The upgrade also incorporates the Inter-Blockchain Communication (IBC) protocol used by Cosmos, making it fully compatible with all Cosmos dApps.
Avalanche (AVAX) Avalanche was comfortably the second top performing cryptocurrency against the USDT in Q3 2021. It's now ranked as the 14th most valuable crypto asset by market cap. It posted a quarterly return of 459.12% in Q3 2021, with its opening price of $11.917 rising to a closing price of $66.63.
In the year to date, Avalanche's value is up over 2,500%. It's a blockchain that's captured the imagination of crypto investors, with its ability to enable developers to design and build custom blockchain networks and decentralised applications (dApps), providing genuine competition to Ethereum. In terms of speed, transaction costs and general latency, Avalanche has the edge over most, with the ability for its subnets to process up to 4,500 transactions per second.
Avalanche has also teamed up with decentralised finance protocol Aave, which could see Aave being deployed on the Avalanche blockchain. Alpha Finance Lab also recently utilised the Avalanche blockchain to unveil version 2.0 of their Homora network.
Fantom (FTM) Fantom experienced a rock-solid quarter in Q3 2021, posting a quarterly return of 404.94%. FTM opened at a value of $0.23892 against the USDT, before closing the quarter at a price of $1.2064. Fantom has well and truly emerged on the crypto scene and is now inside the top 50 cryptocurrencies by market cap, ranking a respectable 40th.
There is significant optimism surrounding the future value and potential of the Fantom blockchain, which has been dubbed yet another potential "Ethereum killer". The Fantom platform enables developers to build dApps with smart contract functionality. The decentralised finance (DeFi) industry has proven particularly popular here, with 36 DeFi dApps already underpinned by Fantom – making it the fifth biggest DeFi platform.
FTM coins are already widely available from the biggest cryptocurrency exchanges like Binance, Gemini and FTX. This also enhances Fantom's value, given that many smaller altcoins are still harder to get hold of. Fantom's transaction speed and fees also make it attractive, with the blockchain capable of handling thousands of transactions per second at a cost of a mere fraction of a cent.
Arweave (AR) Arweave experienced a hugely positive last quarter, posting returns of 319.483% in Q3 2021. The value of its native token AR rose from an opening price of $10.327 against the USDT to a closing price of $43.32. Consequently, Arweave now has a market capitalisation of over $1.06 billion, cementing it well inside the top 100 cryptocurrencies by market cap in 81st position.
Arweave is a fascinating blockchain project that's founded upon a unique data structure called 'blockweave'. Arweave looks to develop a scalable alternative to on-chain permanent data storage. Arweave looks to decentralise all forms of data housed on the world wide web, putting it back in the hands of end users rather than the holding companies.
Arweave is rapidly building a social media platform for its community, underpinned by Solana's technology, which has recently acted as a catalyst for the value of AR to move further higher.
Solana (SOL) It was an impressive quarter for Solana too, which posted returns of 299.395% for Q3 2021. The price of SOL against USDT opened the quarter at $35.396 and closed at $141.37. It even peaked at a high of $214.30 before contracting to a point of support at the $141 mark.
The price of Solana has risen by over 12,000% since the turn of 2021, rising 200 times quicker than Bitcoin in the year to date. The price surge has seen Solana's market capitalisation peak at $60bn before settling at $38.683bn at the close of Q3 2021.
Its success in the face of Bitcoin's uncertainty has been attributed to its underlying technology, which many believe could usurp Ethereum and Cardano in the coming years. Its developers claim the Solana blockchain to be the fastest in the crypto space and it's also "censorship-resistant". The SOL ecosystem is also one of the cheapest for projects, with transactions in SOL costing an average of just $0.00025, thereby lowering the barriers of entry to the dApp movement.
NEAR Protocol (NEAR) Since mid-July, NEAR coin – the utility token of the NEAR Protocol – has been on an impressive bullish uptrend. During Q3 2021, NEAR Protocol posted gains of 233.992%, rising from an opening price against the USDT of $2.074 to a closing price of $6.927. This positions NEAR Protocol as the 38th most valuable cryptocurrency by market cap, according to our list of the leading crypto assets.
The NEAR Protocol is a decentralised platform for dApp developers. In terms of its long-term scalability, NEAR Protocol is underpinned by a Proof-of-Stake (PoS) consensus algorithm dubbed 'Nightshade'. This allows the protocol to offer stable transaction fees and swift processing speeds.
NEAR Protocol's recent partnership with Panther has also caught the eye of crypto investors. The two organisations are planning to develop privacy preserving technology for dApps within the NEAR ecosystem. Panther believes its partnership with NEAR Protocol will help them take "one more step" towards what they believe to be an "interoperable, private and compliance compatible blockchain future", according to its CEO and co-founder, Oliver Gale.
Cosmos (ATOM) Cosmos coin (ATOM) is the native cryptocurrency of the Cosmos network, which is experiencing significant interest within the crypto community. The value of ATOM soared 200.864% during Q3 2021 – up from an opening price of $12.042 against the USDT to a closing price of $36.23.
It has been dubbed by some cryptocurrency enthusiasts as one of the most important projects in cryptocurrency history. That's because the Cosmos network is designed to fulfil a critical task within the ecosystem of blockchains. Cosmos enables different blockchains to communicate with one another in a decentralised fashion. This is known as 'interoperability' and Cosmos is one of those names to be leading the way in this space.
Some major players already run applications on the Cosmos network, including the Binance Smart Chain. It's clear that Cosmos provides a simple solution to a major problem – allowing major blockchains like Bitcoin and Ethereum that traditionally operate in silos to talk to one another and achieve their full potential.
Audius (AUDIO) The price of Audius is one of the major outliers in the top ten best performing cryptocurrencies in Q3 2021. Although the value of its native token AUDIO finished up 168.252% for the quarter, it closed much lower than its quarterly high of $3.9418 against the USDT. In fact, it closed at almost half that price at $2.098, with market sentiment in AUDIO waning in the latter half of Q3 2021.
Audius is a blockchain project aimed at disrupting the status quo of on-demand music streaming. Its new partnership with social media platform TikTok saw AUDIO's price surge in the first half of Q3, with artists partnered with Audius free to use their music on TikTok's platform.
Audius is underpinned by Solana and Ethereum blockchains to decentralise control over artists' music. However, despite having secured over 100,000 artists on the platform, its price waned. That's because AUDIO tokens have largely been acquired by its community of token holders to oversee the governance and operation of the platform. As news of its TikTok partnership faded, so too did 'outsider' interest in AUDIO coin. The market value of Audius appears closely linked to the value of Bitcoin at present, with the recent decline in BTC coinciding with AUDIO shedding much of its gains in August before consolidating at a price above the $2 mark.
Quant (QNT) Quant is a blockchain protocol that is heavily focused on interoperability, empowering enterprise to integrate and operate via distributed ledger technology (DLT). The value of Quant's native coin QNT soared 121.865% during Q3 2021, rising from an opening price against the USDT of $130.80 to a closing price of $290.20.
Trading volumes in QNT have also spiked significantly in recent weeks, with 6th September experiencing an all-time high of $740m traded in QNT around the same time as it reached a high of $387, before moving north further still to $426.70 and settling at $290.20 by the end of the quarter.
The availability of QNT tokens on established crypto exchanges like Coinbase and Binance has been a major boon for QNT. Meanwhile the unveiling of the Quant Developer Program has created new incentives for dApp developers on the Quant blockchain. The recent Overledger 2.0.5 upgrade to its network protocol has also improved the network's clearing and settling of different crypto assets and stablecoins.